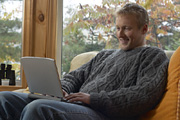 Would you like to speed up your e-file and refund process? On-Line Taxes, Inc. at www.olt.com offers tips to help you get your refund faster!
---


Make a list of what you will need to be completely ready to
file online. For example:

W2's

Bank 1099's

Home loan statement

Charitable donation documentation

Investment statements

Locate social security cards for you, your spouse, and your
dependents (names and numbers must match IRS records).
If someone else lived in your home, they may also count as a
dependent. Read the rules.
Gather the amount of your child-care expenses and provider
tax ID to get the full Child Care Credit.
Pull last year's tax return to compare to this year. It also
has the information you need to utilize the PIN program for
paperless filing.
If you own a house, have large contributions or paid high
sales tax, try the itemized deductions Schedule A and
compare the total to the Standard deduction. You may be
surprised to learn that itemizing is for you!
Make a list of life changes. Did you get married? Have a
child? Purchase a home? Sell a home? Set aside money
for someone's education? Save for retirement? Make a
contribution to charity?
Be aware that tax rules have changed. Exemption amounts
have increased, standard deductions have increased, and the
standard mileage rate has increased.
Make up your mind to "Do it now". You can file with IRS
using www.olt.com for your 2011 Income Tax Return.
Relax! You really can do your own taxes. If you have questions or
problems, contact our Customer Support for help!